The Story of Grommes: Since 1946
-


Franklin Park, IL

William "Bill" Grommes founded Grommes~Precision Electronics, Inc. in March of 1946. For more than six years Grommes~Precision called the corner of Milwaukee and Erie in Chicago its own.

Began as a company that designed and manufactured signal tracers, Grommes~Precision soon evolved into consumer audio. [See the Model 202 Signal Tracer Review.]
The name "Grommes" was adopted specifically for Grommes~Precision Electronics' line of consumer hi-fi products.

Lead by chief engineer and audiophile, Al Hart, Grommes became a pioneer in high-fidelity. The Grommes line started with mono block tube amplifiers, but soon evolved into pre-amplifiers, integrated amplifiers, stereo amplifiers, and tuners. Demand for quality high-fidelity amplifiers grew substantially and in 1952, Grommes~Precision moved its operations to Franklin Park, Illinois, just outside of Chicago.

By 1955, Life Magazine declared Grommes one of the best buys in hi-fidelity. Not only for its 55PG amplifier, but also it's LJ-3 "Little Jewel" tube amplifier kit.

By far, one of Grommes' most popular products was the "Little Genie" and "Little Jewel" build-it-yourself tube amplifier kits. The kits came with a full-color instruction guide and all the parts one needed to build their own 10 watt tube amplifier. It was "So simple...it's like magic." To this day, many an audio engineer claim they first got the "audio bug" from assembling their own Little Genie kit. Others sometimes got even more...



Life Magazine--February 28, 1955
Photo above taken from page 99.


Read a review of the "Little Jewel" LJ-6K.

As one customer writes:

"As an engineering student in the late fifties, I was introduced to a young nurse who wanted to buy a 'Hi-Fi' with her Christmas bonus check and wanted the best system she could get for her money. I helped her assemble a component set with the first LJ-5 at its heart.

About a year later she contacted me with the question 'Could the set be modified to play stereo records?' That led to the purchase of the second LJ-5 and with a new phono cartridge and additional speaker we created her 'Stereo.'

Well, one thing led to another and she eventually married me and got a lifetime guarantee on her stereo!"

In 1959, an audiophile amplifier favorite was born. Loved for its honest and warm replication of music, and well-respected for Al Hart's high-fidelity design, the 260A was hailed as "one of the finest power amplifiers made, by virtue of its rugged, conservative construction, and remarkably low distortion." To this day, it is many an audiophile's favorite. [Check out the 260A Limited Reissue available now!]


"...the Grommes 260A emerges as one of the finest power amplifiers made, by virtue of its rugged, conservative construction, and remarkably low distortion"

--Hirsch-Houck Laboratories and the technical staff of High Fidelity [Read the 260A HF Reports Review]

Throughout the 1960's and into the 1970's Grommes continued to supply the high-fidelity consumer market with quality products. Slogans such as "The Best Buy in Hi-Fi," "The Finest in High-Fidelity," and "Music At Its Best" reinforced the quality and hand-workmanship that went into every Grommes product.

By the 1970's Grommes~Precision expanded into the commercial and industrial audio market and slowly moved out of the consumer market. Throughout the late 1970's and into the present, Grommes~Precision's primary focus has been it's Precision Electronics division which specializes in industrial and commercial sound applications and its Precision Custom division, which specializes in private labeling, custom audio applications, and audio outsourcing.

Now in 2002, Grommes~Precision is returning to its roots, revisiting the high-fidelity designs that made it a household name in consumer audio and re-entering the high-end consumer audio market.

Grommes is determined to be true to our original mission: to make Grommes fidelity high-fidelity at its finest. With our chief engineer and audiophile Alan Kimmel at the helm, Grommes plans to introduce a range of new tube products worthy of the name Grommes...


Chicago Mayor Daley (left) presenting Bill Grommes (right) with a Pioneer in High Fidelity Award. Grommes was one of the first to develop high- fidelity.

...and most importantly, worthy enough to make both Bill and Al proud.
-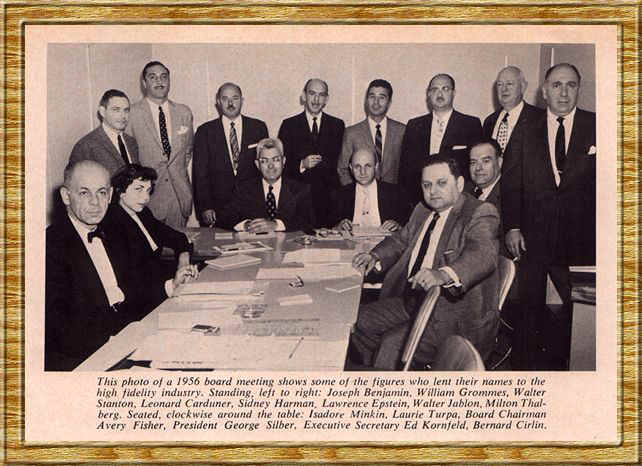 Manufacturers of High Fidelity Board Meeting Photo, 1956. Bill Grommes is seen standing in the corner on the left. Board Chairman: Avery Fisher. President: George Silber.